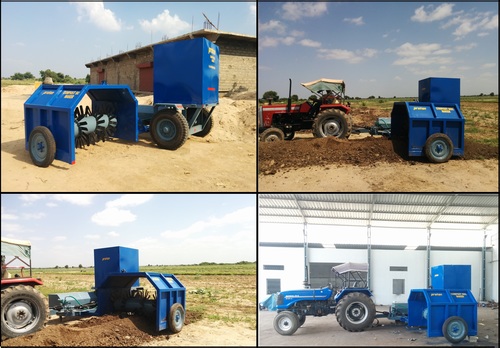 Compost Making Machine
Price And Quantity
Product Specifications
Product Description
Organic cultivating framework in India isn't new, and is being taken after from old time. It is a technique for cultivating framework which principally went for developing the land and bringing manifests in such a route, as to keep the soil alive and healthy by utilization of natural wastes (crop, animal & farm wastes, marine wastes) and other organic materials alongside advantageous microorganisms (bio manures) to discharge supplements to crops for expanded practical generation in an Eco-accommodating contamination free condition.
Compost soil producer
makes compost out of dairy animals excrement, vegetable and organic product squander, fallen leaves, rotting matter from the roadside, plant waste etc. Subsequently trolleys of waste are dumped in stacks, the machine mounted on a tractor gathers the loss from a side. It finely shreds the waste, diverts it from one side to the next and around, while infusing water in with the general mish-mash. It at that point lifts up the whole blend and leaves a trail of waste in a long queue behind. The natural waste is in this way prepared and transformed into fertilizer.
Key Advantages of Compost Making Machine:
The compost soil maker is absolutely new idea to help the natural cultivating.
It produces natural compost with less exertion and brief time.
The switch sharp edges are settled at consummate edge with legitimately outline for less wear and tear, by which fine cutting and turning of thousands of huge amounts of waste can be done.
The pressure driven framework is there with the goal that entire chopping framework can climb down effortlessly while working or voyaging in a perfect world.
Compost soil producer cut down your time as well as cut down the cost.
This machine is the best decision for agriculturist who has faith in natural cultivating.
Technical Specifications:
Chassis: Heavy-Duty Frame Structure with (916 no.), Two Tyre
Rotor: 1800mm length, 405mm dia., 12 mm thickness
Blades: 70 nos. Blades evenly distanced mounted
Blade Material: Special steel for high durability
Hydraulics: Heavy-duty hydraulic cylinder with proprietary hydraulic fittings & valves, and Hydraulic Motor for Primary Rotor rotation.
Capacity: 600 to 1000 Tonne/Hour.
Water tank:- Galvanized steel construction with 2000 litre water storage capacity.
Water Spray: 6 Water Spray functioned with DC Pump offering even water distribution.
Suitable Tractor: Suitable for 45hp, or above tractor models with exterior hydraulic installation.